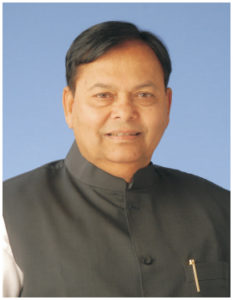 Hon'ble Dr. Patangrao Kadam,
Founder,
Bharati Vidyapeeth (Deemed to be University), Pune, India
A very few individuals have the distinction of becoming legend during their own lifetime by virtue of their extra ordinary abilities and exceptional achievements. Late. Dr. Patangrao Kadam, Founder of Bharati Vidyapeeth, Founder of Bharati Vidyapeeth (Deemed to be University) and an undisputable leader of masses was one of them. He was the chief architect of beautiful edifice of Bharati Vidyapeeth which he established at the age of 19 in may 1964. Within a span of few decades, he developed it into one of the largest educational organizations in the country known for its high academic excellence within the country and beyond.
Dr. Kadam had envisioned metamorphosing Bharati Vidyapeeth into a full-fledged University at the time of its establishment. His dream came true in April 1996 when the Government of India conferred the status of "Deemed to be University" initially on a cluster of 12 Institutions. Bharati Vidyapeeth (Deemed to be University) with its 29 constituent units now has carved out a place for itself in the galaxy of leading universities in the country. Its high academic standing has been acknowledged by the NAAC by awarding it A+ grade successively in its three rounds. Several other assessing agencies also have placed its constituent units high in their rankings. The University owes its enviable success to the perceptive leadership of its Chancellor, Late. Dr. Patangrao Kadam.
Dr. Kadam Contributed significantly to the economic prosperity of Maharashtra by implementing various developmental schemes, as a Maharashtra Cabinet Minister holding different portfolios. He made concentrated endeavours for the enrichment of culture, literature and sports in Maharashtra, with his generous patronage to the artists, writers and others. He created moments of relief and joy in the lives of thousands of poor, needy and deprived through his helping hand.
We, the teachers, support staff and millions of students, past and present of Bharati Vidyapeeth and Bharati Vidyapeeth (Deemed to be University) owe him immense debt for the encouragement which he gave and the opportunities which he created for us to realize our potentials and thus to brighten our life prospects. We would like to remain indebted to him forever.