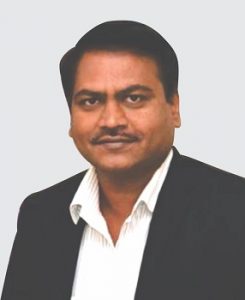 Prof (Dr.) Ajit More,
Professor and I/C Director,
School of Online Education,
Bharati Vidyapeeth (Deemed to be University)
Dear Students,
Please accept our sincere greetings and thank you for visiting our website.
The key to choosing a Learning Program is to find the right environment, one in which you can thrive personally and develop into the Professional you aspire to be. Ours is a rigorous but a collegial program. Our top priority is to educate learners.
It is an honor for me to serve as the Director of Bharati Vidyapeeth School of Online Education (SOE).The SOE- Distance and Online programs at Bharati Vidyapeeth (Deemed to be University) is housed in the prestigious Bharati Bhavan of Bharati Vidyapeeth (Deemed to be University) premises and include both academic and administrative people who are entirely and exclusively focused on Business, Social Science, Law, and new generation education.
It is our goal to provide you with the best possible Knowledge and Skills training in an academic and supportive environment conducive to learning. We accomplish this through close mentorship, modeling professionalism and a commitment to our Learners, and by setting high academic standards.
We are a dedicated team that is focused on continuous improvement and innovation, while consistently providing excellent education that meets the needs of our learners. Whether you are an alum, industry professional or are interested in the program, we want you to connect with us!